The main aim of marketing depends on high-valued and targeted demographics. The need for this is reliable customer information, which allows an organization to scrutinize qualified customers as well as enhance its products and services. This feature has driven to an increase in CDP – Customer Data Platform development, scoring over the growth of other tools in the marketing sector. With the ability to increase a brand with its client base, a CDP (Customer Data Platform) is becoming a key marketing technology.
Marketers' frustration over non interconnected customer data has trigerred a confusing spectrum of solutions from providers. Marketing folks can use this guide to understand the CDP marketplace before making further investments to improve their first-party data management.
Marketers struggle to leverage integrated customer data, which has driven hype around the creation of customer data platforms. Focused expectations of the effective scope of customer data platform (CDP) use cases are pushing this market toward Disillusionment.
Effective use cases for customer data platforms often depend on or overlap with capabilities in IT systems such as MDM-master data management, which contain customer data but are typically managed outside of scope of marketing.
Although the diverse vendor ecosystem is composed of vendors with rapidly evolving capabilities, pure CDP vendors compete against those with background in either technical data management or marketing, such as multichannel marketing hubs. Vendors frequently add new features and capabilities, but buyers struggle with a single CDP label used by vendors to cover the entire spectrum of use cases when most only excel at a subset of these.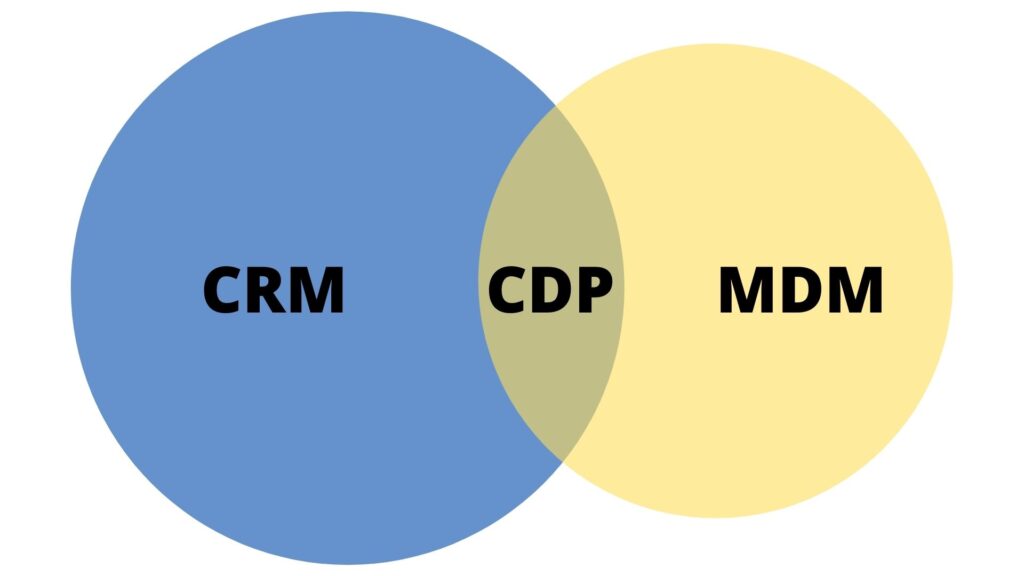 Effective use cases for Customer Data Platforms often depend on or overlap with capabilities in IT systems such as MDM-master data management
Customer Data Platform:-
"A Customer Data Platform is packaged software that creates a persistent, unified customer database that is accessible to other systems." Its also called a Consumer Data Platform, and this technology integrates first- and third-party data from multiple sources into a single, 360 view of the customer across all devices and channels. These data can lead to insights, intelligence and trigger engagements across all customer interactions in a much more sophisticated way. CDP shares similar functionalities with other systems, like a CRM or DMP. However, a CDP acquires data from multiple sources and stores the data of selected customers.
CDP / CRM / DMP:-
Collecting user data to deliver targeted campaigns is not a new concept. But, there are key differences between CRM-Customer Relationship Management, DMP-Data Management Platform, and a CDP-Customer Data Platform.
CRM:-
Customer Relationship Management (CRM) systems depend heavily on the manual input of user data and support only a limited number of sources and sinks. The main drawback between this and a CDP is that it lacks the scalability and selection feature provided by a CDP. They are not designed to gather data from multiple channels and lack the power to analyze data that it has not been implicitly instructed to sort. This one-sided functionality also limits its output. When a CRM is instructed to export data, it is limited to traditional methods like CSV/Text download.
These issues are overcome by how CDP works where data is gathered, segmented, and targeted. A CDP allows it to connect and align various user data from multiple channels. Through this feature, marketers can formulate a complete compendium of the users all on an individual level, and in real-time.
DMP:-
The data collection process from a CDP looks similar to a Data Management Platform (DMP), but only at only a higher level. A DMP is built for collecting anonymous consumer data from third-party cookies. This means that information is anonymous and gathered with the intention of retargeting/advertising. This design leaves a DMP unable to create a consistent data identifier as that data will expire when the cookie does. Therefore, it can never work as the system record for customer interactions and its dependence on third-party cookies leaves the future in doubt if a basic change is not taken care of.
A CDP relies on 1st-party data directed towards building a complete customer profile to address all these issues. This allows a CDP to pass on data that doesn't expire, of a known specific customer profile, to other systems, providing a customized user experience for clients outside the use of advertising.
Enriching profiles and the types of data that are available:-
Creating a base record is the first step—and it's a huge first step—but marketers also need to expand their know-how about each user. There are several categories of data: demographic data, transactional data, interaction data, interest data, and location data. Knowing how to acquire this kind of data in privacy is critical.
a) First-party data:- This is the most valuable data that you have. It's the history of your consumer interactions and the tips they've to leave you all the way. It tells you what someone bought, what caused them to engage/ignore a brand, and the overall satisfaction level. Improving this isn't just a one-time exercise in data management and also linking the multiple profiles together is a continuous activity. Adding the feature to recognize users when they aren't logged in on your website or when they drop into your stores can unlock huge value and help make your marketing much more efficient.
b) Second-party data:- This is somebody's first-party data and is the next best thing to having first-party consumer data. It's shared via partnerships or in environments where permissions and the level of identifiable information are controlled. An example is an airline sharing data with a hotel so as to target known travelers or for adjusting room rates.
c) Third-party data:- This is integrated data collected from across various sources. The accuracy of the data can vary from sharp to not so accurate. Typically demographic and transaction data falls under third-party data. Interest data which is often inferred can be less valuable due to precision issues. The same goes for declared data because it may not be as accurate as watching someone engage continuously and how that changes over time.
d) Zero-party data:- This is the latest category, but it is things that consumers themselves tell whether they are / not interested in. It's basically a voluntary category of first-party data that is at the intersection of profiling and consumer privacy and consent. The ability to collect and apply this type of data to the customer journey can help brands add a sophisticated layer of personalization.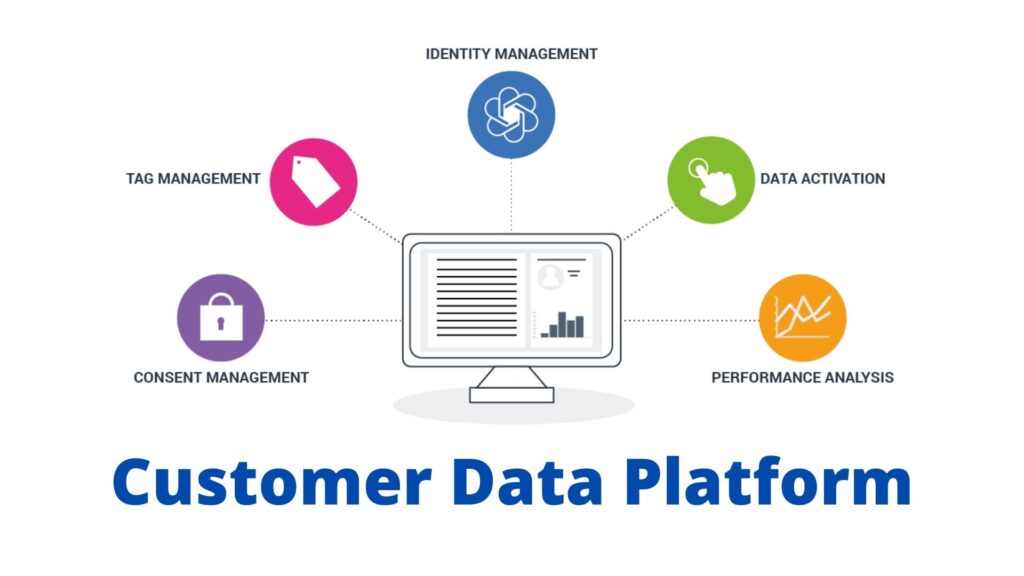 Gizmeon will design, build, deploy an enterprise Customer Data Platform (CDP) specifically aligned with your organization's goals and uniqueness.
Recommendations
To best evaluate the CDP marketplace use data and analytics technology:
1. Identify whether your use cases are operational by solving for inefficiencies in data management or data delivery, or analytical, such as growing customer spend or reducing churn.
2. Consult with key stakeholders in your organization before deciding whether to deploy a CDP. Determine your brand's willingness to source technology externally versus building and maintaining in-house and clearly document your needs for execution.
3. Conduct an inventory of existing skills in order to evaluate the marketing team's ability to collaborate with IT and other stakeholders for data science, customer modeling, data management, and execution. Select marketing solutions that complement and integrate with other enterprise systems such as data warehouses, CRM tools, or personalization engines.
4. Evaluate the level of risk tolerance in your organization for emerging technologies by determining whether a CDP — or related technology system — is an ideal fit.
Unified profiles help with more than just user engagements, it can also direct you on what marketing activities and types of engagements have the greatest impact on sales
Benefits of using a Customer Data Platform:-
Incorporating a CDP into your organization's workflow can lead to better customer relationships while integrating seamlessly with your current system. A CDP offers multiple ranges of benefits that a simple CRM or DMP cannot, including:
Obtaining a single view of the customer
CDPs resolve data isolation issues, or data silos, found with other software by creating an integrated working environment. The platform integrates profiles across various systems to give the organization a single, and comprehensive customer overview. Its ability to create the customer profile from various sources at an unprecedented scale can channel the information in a usable format for different departments within an organization. Data collection-The ability to ingest first-party, individual-level customer data from multiple sources, online and offline, in real-time and without limits on storage. Data persists as long as needed for processing. This includes first-party identifiers, behaviors, and attributes.
New insights and segmentations identification
Specifics are key to delivering an effective campaign, and with the sheer volume of data, it can be really challenging to make out if the data collected is credible. Knowing that CDP data comes from a specific and reliable source can give a company the confidence necessary to construct a workable marketing strategy.CDP data pulls its information directly from users through their interactions with engaged sites, social media interactions, and other subscriber bases. It does this by deriving data from pixels and similar tracking software. Segmentation-An interface that enables the marketer to create and manage segments. Basic offerings support rule-based segment creation. Advanced segmentation features may include automated segment discovery, predictive analytics, and propensity models, and the ability to import and deploy custom models built-in external advanced analytics or data science environments.
Activation-The ability to send segments, with instructions for activating them, to engagement tools for email campaigns, mobile messaging, and advertising, for example. Marketers still need execution systems for the final mile. Some CDPs have added advanced support for content-based filtering, suppression, personalization, journey orchestration, A/B testing, and recommendations.
Personalized, real-time customer engagements
A CDP provides clients with enhanced personalization, which leads to a drastic increase in a customer's lifetime value. The platform can leverage unified user profiles to deliver personalized recommendations, like the next best offer, and help guide the user journey. CDPs also capture more accurate measurements of repeat purchases.
Unified profiles help with more than just user engagements, it can also direct you on what marketing activities and types of engagements have the greatest impact on sales. The more customer visits you can identify across both paid / direct channels, the better you'll be able to make out what works. But, to truly understand what is driving purchases, you will likely need other solutions like a clean data room, especially in the current face of data and privacy challenges. Profile unification-The ability to consolidate profiles at the person level and connect attributes to identities. This must include linking multiple devices to a single individual once that person has been identified and deduplicating customer records. Some solutions may support third-party data matching or aggregating customers into a household or account.
Additional noteworthy CDP features:
Consent and preference management: Collect and consolidate end-user choices regarding how their personal data should be handled and synchronize these choices across marketing systems.
Testing and self-optimization: Enabling A/B and multivariate tests that monitor and self-optimize the customer experience based on the winning campaign segment.
Master data management for customer data: Addresses demands from IT for greater control over customer data mastering and governance, and may integrate control over the identity resolution engine.
Data science workbench: Beyond out-of-the-box predictive models, the ability to import and manage machine learning within the CDP using R or Python.
Next best action: A channel-agnostic recommendation engine often assists brands in adopting the CDP while also delivering intelligence to nonmarketing channels such as call centers or live chat agents.
Account-level aggregations: identity resolution aided by capability to accommodate account or organizational aggregations of contacts who are associated with a specific enterprise, in support of account-based marketing and B2B lead management
When examining the features of a CDP, note that they offer many similar APIs, and rarely differentiate on data collection and management alone. In addition, their segmentation features are largely rule-based. As CDPs seek to stand out, they're expanding prediction and decisioning features that increase the potential overlap with personalization engines. Some are beginning to offer more robust customer journey analysis and use artificial intelligence (AI) to make sense of those journeys. Because of the focus on customer data, CDPs offer varying approaches to recommendations and next-best-action suggestions for each segment or consumer.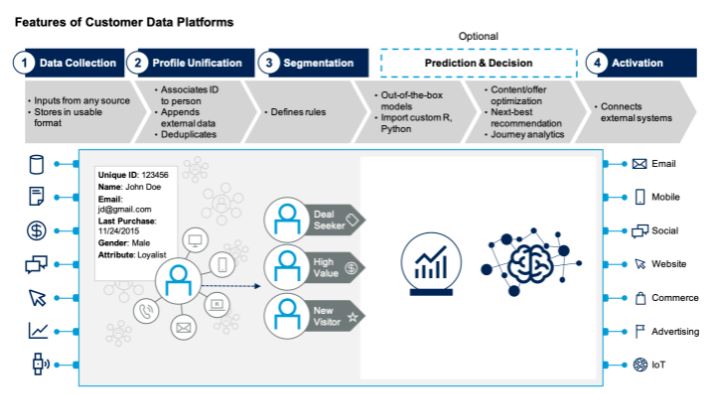 Incorporating a CDP into your organization's workflow can lead to better customer relationships while integrating seamlessly with your current system. 
However, most CDPs are not enterprise-ready
While there are many benefits to a CDP, large enterprise brands must be careful as NOT every CDP is enterprise-ready.
Most CDPs are built by technologists who see an opportunity to link customer marketing profiles together with basic data management, while there are some market segments that can get value from this, they are not enterprises. Enterprises usually have existing internal resources or investments, which means they have a partner that can deliver on their unique needs (and this rarely be done with out-of-the-box technology). This information is something many CDPs cannot handle: how to deliver actionable customer intelligence that can solve specific requirements and that too at scale.
Some enterprises are on the tedious path of building custom internal solutions to address user identity resolution and personalization. But this path will be much slower towards the goal, whereas finding an enterprise CDP packages can accelerate progress and brands don't have to go at it all alone.
Looking to deploy a CDP? Contact us for more details.
Gizmeon can help here!!
When deciding whether or not to deploy a CDP, ask the following questions:
Is the CDP the best technology to solve our problem? Not all marketers need a CDP. In fact, at least 10 technology categories have features that overlap with those of a CDP
Do I have a large amount of individual-level data? If the answer is no, then learn about how to achieve a higher level of data granularity before acquiring a repository for individual-level data you don't have.
How will we govern and protect customer data? Many CDPs have native support for consent and preference management. Assess the requirements for privacy compliance and data governance that apply to your enterprise and how the CDP will support these initiatives.
Who will own — and manage — our CDP? Consider who will manage the CDP, and how this will change the workflow and processes of your team. For IT-managed CDP options, consider a CDP engine/toolkit or a data integration CDP. For marketer-managed options, a smart hub or marketing cloud CDP may help overcome individual channel silos. Plan for inclusive training and evangelism to rally marketing teams around a CDP so that the business can get value from it.
How can you align to your integrated suite or best-of-breed martech strategy? If you are already heavily invested in a single marketing cloud, then you may consider the integrated solution available. The vendor may have a set of features that can do what you need, even if those features aren't explicitly packaged as a CDP. If you prefer a stand-alone, best-of-breed solution, confirm that required integrations are available out of the box or require incremental development, configuration, or licensing from your prospective CDP.
What data will go into your CDP? Can you get access to essential data like marketing response history or previous purchases to really make customer modeling worthwhile?
Do we have the skills in-house to deploy the CDP? Even though the promise of the CDP is fast time to value and a marketer-managed solution, remember that it may not be simple to deploy without the help of your IT team or without a knowledgeable marketing technologist.
For any marketing campaign to be effective, it needs to be backed with specific data. As-is, it isn't easy to find a CDP built with enterprise-level organizations in mind. At Gizmeon, we've developed Gizmeon's Interbeeps, an enterprise-ready customer data platform that can handle any task, regardless of volume. Powered by first-party consumer analytics and data, your marketing team can deliver personalized targeting across the right channels at the right time and measure performance.
Reference:
https://www.gartner.com/en/marketing/research/data-analytics-customer-data-platform-free-research-2018

https://ieeexplore.ieee.org/abstract/document/8291791

https://www.emerald.com/insight/content/doi/10.1108/MIP-05-2012-0055/full/html

https://www.sciencedirect.com/science/article/pii/S2212827118305213

https://link.springer.com/chapter/10.1007/978-3-030-03724-6_7